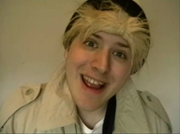 Lester B Bum is Linkara's Bum counterpart. He first appeared in Linkara's 2009 April Fools video to review Watchmen (Graphic Novel). He also did a review of Deathly Hallows Part 1 with Doug Walker's Chester A Bum (Who Lester is based on). So far he has yet to again appear.
Appearance
Edit
Lester wears a coat similiar to Doctor Linksano's labcoat. He also has blonde hair covered with a black wool cap.
Ad blocker interference detected!
Wikia is a free-to-use site that makes money from advertising. We have a modified experience for viewers using ad blockers

Wikia is not accessible if you've made further modifications. Remove the custom ad blocker rule(s) and the page will load as expected.