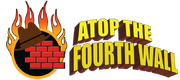 Welcome to the AT4W Wiki
The unofficial wiki for Lewis Lovhaug's "Atop the Fourth Wall"! For more in-depth information, episode by episode, please check out the AT4W Plot Guide!
Want to help out? Check below for our list of needed content, and please read our FAQ!
About us
Hello, and welcome to the Atop the Fourth Wall Wiki, where bad articles burn. The wiki could use your assistance in making this a resource for all AT4W fans.
Before editing, please read our FAQ, and make sure that no one else has added the same information you were going to add.
Pages We Need
These pages have not been created yet, but should be soon
Characters
Items
Other
Pages In Need
This section is for pages that require fixing to meet our standards
Characters
Items
Other
Ad blocker interference detected!
Wikia is a free-to-use site that makes money from advertising. We have a modified experience for viewers using ad blockers

Wikia is not accessible if you've made further modifications. Remove the custom ad blocker rule(s) and the page will load as expected.